Hey I'm Sam, it's great to meet you.
For the past 7 years I have been traveling the country and recording music as a professional drummer. I'm a successful producer and artistic innovator who is helping to reimagine contemporary rock and jazz. I'm a music teacher and am deeply inspired to help others express themselves authentically through music and art. See what I've been working on below. If one of these projects speaks to you, please click here. I'd love to learn more and see if I can help.
Epic Rock Album!
The artwork to your left is for my latest project called "End of Time." Here is an excerpt from the liner notes, written by Dr. Patrick Finley and edited by Jeremy Fishman. If you'd like to learn more click here.
"This is not an album with 15 songs on it. It is a narrative, an odyssey of thought on the ups and downs, the misery and hope of life, with its resolution residing in our death. Though much of the poetry is dark with references to shadows, insanity, disdain, and rotten nightmares, there is a spiritual message that, in the end, there is peace. Although not stated outright in the text (for which we are relieve...being obvious is too easy), it is the music that delivers us from all of this, and not sardonically, but with an organically arrived-at consolation.
(The music video is below. If you'd like to hear the full audio click here).
The album's tracks vary in presentation, but these highly creative shifts and turns unite them by the thread of the narration winding its way through each song.
The journey is rich in its rewards and satisfying in its constantly changing color and text. Often, artists who attempt to unite disparate elements into a whole end with a desultory product. But "End of Time" succeeds on all fronts in its sense of purpose and coherent vision. It is the potency and deft structuring that makes this not just an enjoyable piece of contemporary rock, but a significant one."
The music video below is an illustration of the dangers of texting while driving. More specifically, it looks at the aftermath of a texting while driving tragedy. What if you were distracted by your phone and killed someone because of it? What if the person you killed began to haunt you in your dreams, reminding you of the grave mistake? Addiction to cell phones is a thing. Using contemporary musical forms to raise awareness for phone addiction is powerful and impactful. I welcome the opportunity to craft creative content that can make a difference.
Magical, Spontaneous, Live Jazz
The artwork to your right is for a recording that captures the first annual "Jazz at the GRJC" concert...the fulfillment of my goal to bring a New York City jazz club experience to my hometown of Glen Rock, NJ. There is magic embedded in this recording, fueled by the spark of spontaneity that can only be achieved in a live performance. This is the beauty of jazz, capturing a moment in time and creating a musical conversation that may never happen again in the same way. Click here to listen and click here to read a review from Dick Metcalf, editor of Contemporary Fusion Reviews.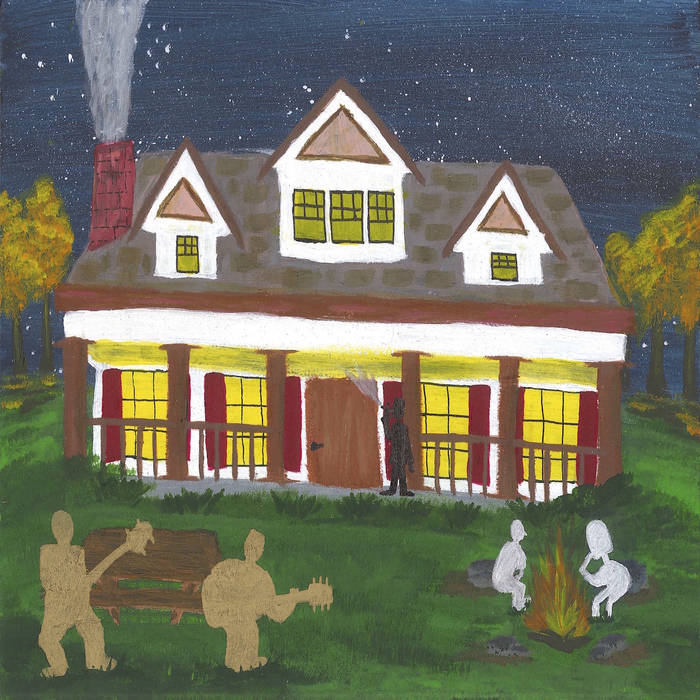 It was a summer night in NJ and my friend Chris and I got together to spend some quality time and play some music. Chris was house sitting and the owners had a large deck in the backyard. We sat down and began to jam. Before you knew it, we felt that it was time to roll a cigarette using some Amsterdam shag. It was a tasty cigarette, and as we were smoking, Chris started to play a pleasant chord progression on the guitar. Then the magic happened "Cigarette John was a friend of mine, smoked cigarettes til the day he died..." The song just continued on from there and we were enjoying the moment. I knew we had to capture this song, so we recorded at The Music Factory in Englewood, NJ. Taking an organic approach, we kept the song mostly acoustic. Soon we realized that this song had a real and important message delivered in an amusing way. Smoking is a bad thing and peer pressure exists, but you can still say "I don't want to be like him..."
Everybody Wants To Be A Cat!
For my senior recital at the University of Rochester I elected to produce a concert that would feature original arrangements of classic Disney songs. To do this, I went to 4 friends whom I knew would be more than capable of creating some original arrangements. John Lagomarsino, Dan Bernardo, Brandon Campbell, Scott Bradley, and Neil Fishman (my dad of course). As the arrangements were being put together I was able to form a band that included Chris Ziemba, my brother Jeremy Fishman, Evan Marcantonio, Ben Tiberio, and his dad Bill Tiberio. The results are impressive and very fun. The video to your left is the most popular video of the concert: "Ev'rybody Wants To Be A Cat." There are some other videos too, including the zany "Pink Elephants." It's quite trippy.
There was no requirement for my graduation that I put this recital together, but I've always enjoyed producing/collaborating/being creative with others. I jumped at the chance to put on a fun and unique concert. Great energy brings great results, and knowing talented people is a blessing.
In April of 2015, my friend Chris and I felt free. The weather was fair and the mood was chill, so we called Charlie Dougherty to join us. This is a warm recording that went straight to tape. You can feel the classic vibe throughout this album. This is honest, authentic music that conjures up feelings of nostalgia, when times seemed simpler. Listen now.